I remember starting Weigh Watchers for the first time way back in the late 1960's, yes I know, I am old. I lived in Brooklyn New York, and Jean Neiditch, the founder of new then, fledgling weight loss club, lived in Queens, where she started the original WW, from using a very basic low calorie diet, published by the American Dietetics Organization.
The basic premise was for dieters to have a place to get together and share their weight loss ideas, struggles, and the like. Jean would make occasional visits to be the guest lecturer (that's what they were called back then) at some of the new satellite meetings. I had met her a few times close to 40 years ago. For those who remember, the original program was very restrictive. And other than children, men, and teens, the program and the amount of food was the same for everybody. Remember the ketchup made from boiling down tomato juice and sweet and low? Or how bout the ever exciting shakes, from powdered skim milk, ice cubes, sweet and low, and flavored extracts? Yum! (NOT). I also recall the very embarrassing and public weigh in. You stood on a scale, and the weigher announced your weight and how much you lost or gained. I did lose some weight, on some of the times I tried, but also felt so confined in what I could or could not eat, I never really reached any great success.
Thru the years, I wove my way thru every other weight loss method, mostly to avoid what I remembered of the restrictive ways of Weight Watchers. Well, I truly have come home again. But, I find the program now, to be very easy to live with, and still have a normal, healthy life. The points system, is of course, just a cleverly disguised way to count calories, but it seems to be a very workable head game, that makes it easier to keep consistant focus. I love that I can lose weight, eating pizza, chocolate, candy, ice cream, oh, and of course vegetables, protein, and and grains. Bottom line, I can eat ANYTHING just not EVERYTHING at once. I hope to be here for the long haul, and become of the ranks of those who beat the odds!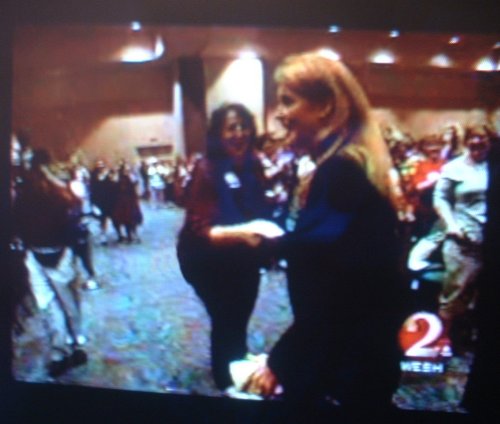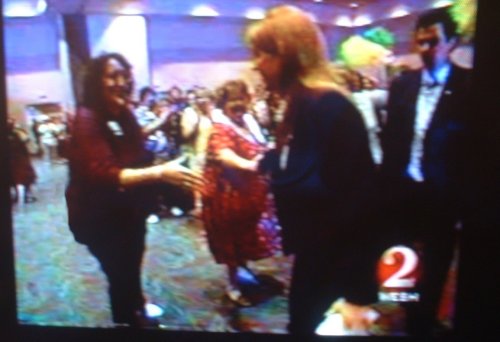 In April of 2003 I had the great opportunity to attend a Weight Watchers Super Meeting, celebrating the 40th Anniversary of this safe, sane, wonderful weight loss program. Sarah, Duchess of York is the current, and very inspiring and charming spokeswoman for Weight Watchers. I was in the front of the audience and had a brief chance to greet her, and shake her hand. The pictures are a bit fuzzy as they were captured from a video that was taken by the local news. But, they are a good memory of a great event.